Certain services in San Luis Obispo County are currently impacted by COVID-19. This is not an exhaustive list. Residents are encouraged to check the status of businesses and agencies they need to interact with.
This information is current as of March 27, 2020 at 3:00 pm.
County Services
The County of San Luis Obispo is continuing to provide essential services to residents during the current Shelter at Home order. County offices are still open for buisness, but most public counters are closed. Residents are encouraged to access services and conduct business online or over the phone when possible. If not possible, residents may call ahead to a department to make an appointment. To protect the health of the community, residents and employees who exhibit signs of illness while visitng an office in person will be asked to leave.
Public Transportation
The Regional Transit Authority has a temporary reduction in transit services both in response to the California State Governor's Executive Order N-25-20 and as a result of the growing threat of COVID-19.
The RTA and South County Transit (SCT) is focused on safeguarding the health of its employees (18% of whom are over the age of 65), their families, valued riders and our local community. As a result, the RTA implemented safeguarding measures to temporarily reduce transit services by operating on a Saturday-schedule and weekday Express trip schedule only. The RTA will continue to provide Dial-A-Ride services for medical trips only. The RTA will also provide ADA paratransit service at its current level to mirror ¾ mile of all fixed route in the county of San Luis Obispo.
Grocery Stores
County officials have been in touch with local grocery chains. Some grocery stores may have different or reduced hours. While the delivery system has been strained recently due to high demand, none are experiencing outages or have any doubt in their ability to continue to provide all items.
Supplies continue to arrive on schedule and at their normal levels. The issues the local stores are running into is their ability to have enough backstock in store to keep shelves full. Logistically there is just not enough room for the volumes they are currently facing.
All are positive and confident in their ability to get people the products they need. There is plenty of food in their supply chains.
The biggest issue that all stores are facing are people overbuying. Many are limiting quantities of key items to try to make sure people have access. However, they are still selling out of many items faster than their ability to resupply or fill the shelves with what they have on hand.
County Libraries
Until further notice, all county libraries are closed.
County and City Parks
The following actions are being taken across SLO County: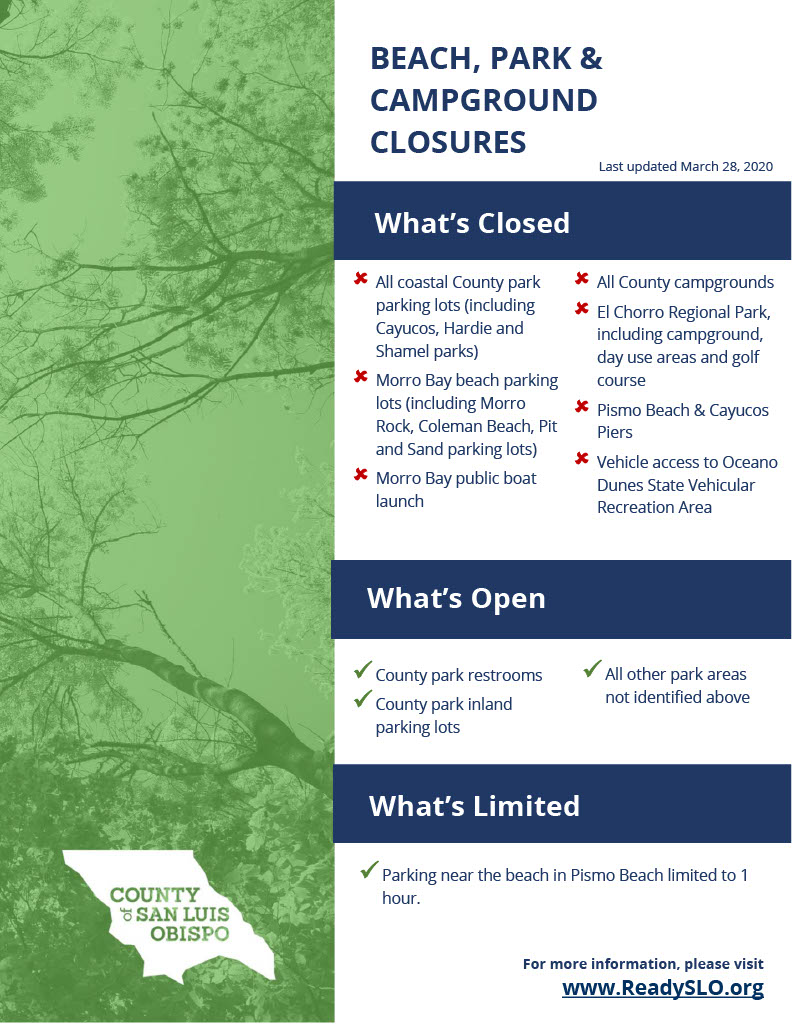 On Thursday, March 26:
The County is posting signs reminding residents they must keep a distance of at least six feet from others at sports courts, dog parks, skate parks and other areas. These areas may be closed if physical distancing requirements are ignored.
City-owned parking lots and parking meters in Pismo Beach will be strictly limited to one hour.
Pismo Beach will strictly enforce physical distancing requirements on beaches. People may visit beaches to walk, jog, surf and swim but must keep a distance of at least six feet from other people.
Pismo Beach Pier will be closed to the public.
San Luis Obispo will strictly enforce physical distancing requirements for trails and parks. People may visit City parks and trails, but must keep a distance of at least six feet from other people.
On Friday, March 27:
Parking lots will be closed at all coastal County parks starting at noon. This includes Cayucos, Hardie and Shamel parks.
Parking lots will be closed at all Morro Bay beaches (including Morro Rock, Coleman Beach, Pit and Sand parking lots) at 6 p.m. The Morro Bay public boat launch will also close. (The boat launch will remain open to commercial fishing).
Morro Bay will strictly enforce physical distancing requirements on beaches. People may visit beaches to walk, jog, surf and swim but must keep a distance of at least six feet from other people.
All County campgrounds will be closed. Reservations from March 27 through April 30 will be canceled for a full refund. Existing campers will be required to leave no later than Thursday, April 2.
On Monday, March 30 at noon:
El Chorro Regional Park will be closed, as the County will be using that site as a location to care for homeless individuals who test positive for COVID-19. This includes the campground, day use areas and golf course.
County Park Rangers will continue to patrol closed campgrounds. The County will coordinate with local organizations to ensure that existing services for people who are homeless are not disrupted.
State Parks
All campgrounds in California State Parks are closed until further notice.

The following State Parks in San Luis Obispo County are now temporarily closed to vehicular access:

Cayucos State Beach
Hearst Castle
Morro Bay State Park

Cerro Cabrillo Trailhead
Lower State Park Road at South Bay Blvd
Lower State Park Road at Morro Bay Campground.
Upper State Park Road at the Golf Course Parking Lot.All access to the park will be from the Main Street Entrance. The Morro Bay Golf Course, Marina and Bayside Cafe remain open at this time.

Morro Strang State Beach

Azure Street Parking Lot
Morro Strand Campground Entrance
Studio Drive Parking Lot- Cayucos
24th Street Parking Lot- Cayucos

Oceano Dunes State Vehicular Recreation Area (SVRA)
Pismo State Beach
Cayucos State Beach- SLO County Park Operated:

All Parking Closures per SLO County
Cayucos Pier
Many state parks and beaches have received record visitation over the weekend which made it impossible for the public to implement appropriate social distancing practices. As a result, the department is working closely with local county and public health officials to modify park operations by closing vehicular traffic at some park units to reduce the density of visitors. A full list of closures can be found online at www.parks.ca.gov/FlattenTheCurve. State Park Peace Officers, in cooperation with allied law enforcement entities, will continue patrolling all state park units and enforcing all regulations
Superior Courts
Superior Courts are making significant changes as a result of COVID-19.
SLO County Airport
Contour Airlines will suspend service at the San Luis Obispo County Airport starting March 30, 2020.
American Job Center of California
Effective March 20, the American Job Center of California (AJCC) has closed in compliance with the Shelter at Home order. Remote services are continuing to be provided through the AJCC staff team who is fully equipped to provide support via phone, teleconference and online means.
While the AJCC facility is closed, here are the numbers to call if you need assistance:
EDD (805) 788-2696
Employer Services (805) 249-9644
General Information (805) 286-8530
If your business is laying off employees or even closing, America's Job Center of California can support you and your workers through this difficult transition. Contact Jim Yancheson at jyancheson@eckerd.org for local business support.
Office of Emergency Services
1055 Monterey Street D430
San Luis Obispo, CA 93408
Telephone: 805-781-5011